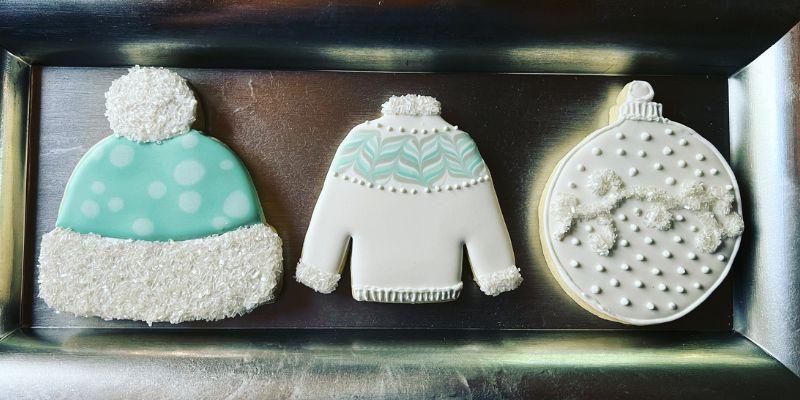 Creativity and inspiration come in all forms! To me, every single cookie I make is a mini work of art. (And yes, I do them all myself.)
I am a committed lifelong baker…my passion has always been baking breads, muffins, cookies, baklavas, and all sorts of goodies 'just like Mom used to make'. Once I started custom decorating cookies, the obsession took hold, and today I am a registered NY State home food processor.
What Makes Custom Cookies Special?
High quality ingredients and attention to detail make custom cookies not just a statement for your next event, but  a gift that is equally satisfactory for the giver as it is for the receiver.
Looking for a unique gift to give at your next special occasion? Why not try decorated sugar cookies? These deliciously sweet treats are perfect for any event, from birthdays and baby showers to weddings and christenings. Sugar cookie designs begin with creative cookie cutters to create one-of-a-kind shapes. They are then baked and hand decorated with royal icing.
Decorated sugar cookies are the perfect gift for any special occasion. Headed to a fancy holiday party? Elegant and ornate cookies will definitely please your hosts. Kids birthday party? Vibrant colors, shapes and characters are in order!  Retirement party? Send your best wishes! Company event? Brand yourself in a unique way!
Cookies are the perfect palette for fun and meaningful edible art!  Cookies come in all types of flavors (vanilla, lemon, almond)  including chocolate! So if you're looking for a unique and delicious gift, try custom decorated sugar cookies.
Check out some of my cookie designs! You can even submit a cookie quote here and I will get back to you with a quote as long as there is still availability. (All of my cookies are custom decorated, so I need about 2 weeks lead time or there is a rush charge added to your order)
Pam The Baker is a New York State registered home baker, offering sales of baked goods in NY State only.